Real food, Simple Food, True Food
Fresh, local ingredients with authentic, traditional recipes using old-world style methods - this has always been at our core.
The idea for "cured" you could say began with our "aha!" moment in 2000 when we traveled to Italy in search of "real food, simple food, true food". We feasted on cured meats handmade in small Tuscan towns by expert curers using old style techniques and recipes. It was eye opening and we were immediately hooked.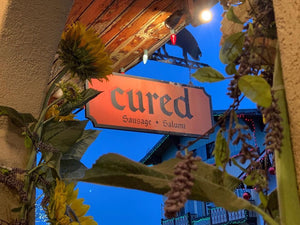 Our Beginning
In April 2008 we opened the doors for cured in a retail space that opened up below our restaurant, originally selling gourmet meat products made by outside sausage companies wanting to capture the same quality and feel as those specialty meat shops in Tuscany. We originally started with pancetta, with quality that we could not find anywhere else and really wanted for our dishes in our restaurants. By mastering the right blend of spice and salt-curing of bacon to bring out its own distinctive flavor, we hit the jackpot with a pancetta so flavorful it was to die for.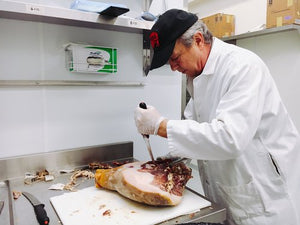 Our Future
Inspired by the old world style techniques and techniques and recipes we found in Italy, we poured our passion into getting USDA permits and remodeling the basement to create all of our own hand crafted in house salumi - all in our top of the line facility with fermentation rooms, grinders, slicers, smokers and freezers.
At the beginning we weren't sure this would fly - but as we continued forward, it just felt right, it clicked. The right ideas, the right people, the right products.
We now offer more than 30 varieties of award wining salami, sausages and jerkies... we will see where it goes from here and it just keeps getting better.